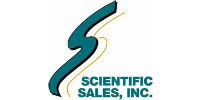 Since 1987, Scientific Sales, Inc. (SSI) has developed long-term relationships with some of the highest quality manufacturers and suppliers in the laboratory, safety, environmental and industrial arenas. In addition, we offer repair and rentals of environmental equipment. SSI understands that the way to sustain long-term growth is through diversity and a willingness to adapt to our customer's changing needs. We have assembled a technical staff with degrees or extensive experience in field operations, law enforcement, chemical engineering, safety, and radiation products.
---
Safety Fest TN is a week of safety classes, seminars , demonstrations, a Safety Expo, a Safety Forum and a Fire Officer Conference – all free of charge to anyone who registers.
Class schedule is available & online registration is open! For more information visit: www.safetyfesttn.org.
Exhibition spaces and sponsorships are available (email: expo@safetyfesttn.org).
Safety Fest TN classes start on Monday, September 14th and things really get rolling with a Safety Forum at 9:00 AM on Tuesday, September 15th featuring speaker Joe Estey. Joe, is a nationally known safety specialist, who brings innovative solutions to complex problems facing some of our country's highest hazard and most complex industries. The Safety Expo also kicks off on Tuesday, September 15th at 11:00 am with over 40 exhibitors.